yonyou Cloud – Everything for Your Business
yonyou cloud integrates different SaaS product of enterprise services from our partners to provide a comprehensive, simple and ready-to-use application for your business.
________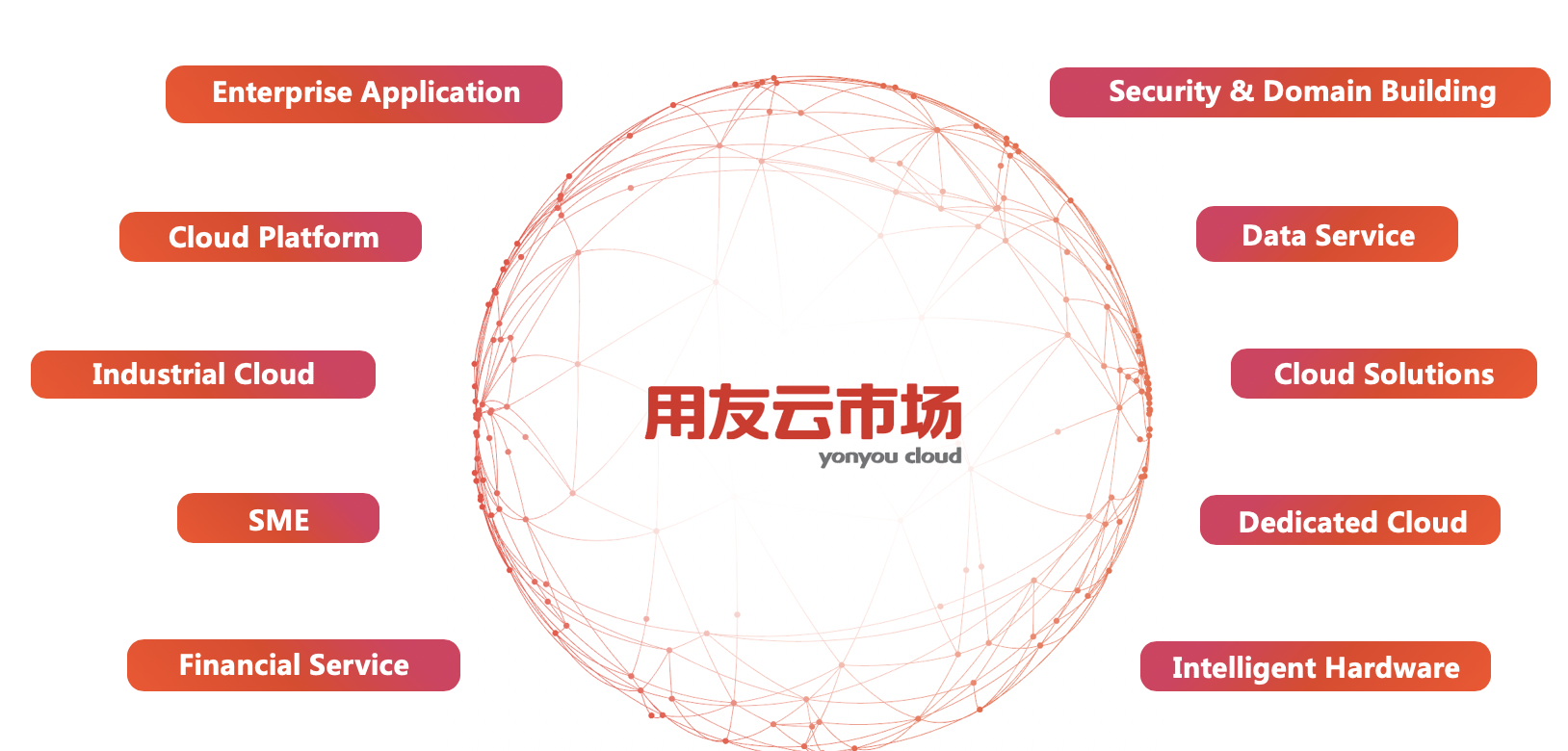 ________
Marketing Cloud
yonyou Marketing Service is committed to providing relevant cloud services for the digital transformation of domestic large and medium-sized enterprises. The products include U-members and U-Retail, U-order and CRM cloud
Affiliate Marketing: Smart Retail and Omnichannel Membership Management with Customer Experience as the Core
Smart Retail: Helping companies the "New Retail" transformation with new technologies such as big data, artificial intelligence, IOT, AR/VR
Customer Operations: Help sales teams improve sales performance and team efficiency
Omni-channel management: an all-channel new pattern of online and offline integration, intelligent and efficient supply chain system
Financial Cloud
By cloud computing, big data, artificial intelligence and other new technologies, with "real-time accounting + intelligent finance + global treasurer" as the core, yonyou provides service for enterprises in accounting, treasury management, financial services
Smart Accounting System: Provide end-to-end one-stop accounting service and connection service, open application, approval, transaction, accounting, payment, accounting, reporting all links
Smart Financial Services: converged business, provides multi-purpose automatic accounting, real-time integrated financial data analysis services
Electronic Accounting Document Service: provide electronic archiving, storage, inspection and other services for accounting files, paperless management, standardization, unified and automated information management
Intelligent image service: providing services such as image capture, image processing, image storage, image review, etc.
Human Capital Cloud
Employee empowerment platform for medium and large enterprises
Staff Services: Recruitment, Onboarding, Probation, Promotion, Transfer, Resignation, Salary, Learning, Development, Certification, Consulting
Personnel Management: Organisation, Position system, Employee Database, Deployment Management, Contract, Attendance Management
Talent Development: Performance Goals, Learning Development, Qualifications
Organisational Development: Corporate Culture, Talent Planning, Labor Analysis
Salary & MPF: Payroll, Tax Calculation
Talent Acquisition: Smart Resume, Interview Process, Talent Assessment, Advanced Search
Collaboration Cloud
Overcome communication barriers within the organisation, promote business collaboration, improve management and work efficiency, achieve social communication and sharing, empower employees and teams, and stimulate organisational vitality
Collaborative Portal: Report Center, Application Center, Message Center, Approval Center
Efficient Office Management: Performance Analysis, Registration, Approval, Official Documents, Administrative Office Management
The teamwork process is transparent and effective: interaction, projects, tasks, reporting
Open API: Data Tranmission to ERP
Corporate Culture Cultivation: Knowledge Base, Monthly Subscription, Sharing Platform, Information Release
Social Communication without Boundaries: Video / Conference call, IM, Grouping
Procurement Cloud
yonyou Procurement Cloud is an enterprise Internet purchasing service platform designed to help companies make purchasing decisions and efficiently collaborate
Purchasing: support price comparison, bidding, bidding for multiple source-seeking services; meet various sourcing needs such as enterprise materials, engineering, logistics services, etc.
Transaction collaboration: agile and efficient contract-to-pay full process collaboration, supporting multi-end applications; automation, real-time, social, deep collaboration
Transaction matching: intelligently recommend quality suppliers to buyers, accurately match suppliers and intelligently recommend business opportunities;
Supermarket: office supplies supermarket; build an in-house mall, support regional markets, industry market model; select 8 million+ products, catalog shopping experience
Supplier Management: Full lifecycle management of suppliers, providing complete supplier access, certification and evaluation; and full electronic implementation of supplier management
Purchasing Optimisation: supplier capability, supply risk, supply quality analysis; support cost analysis of procurement process; performance analysis of procurement business personnel; operational analysis of procurement platform
Contact us 
for a tailor-made solution for your enterprise
31 Years of Execellence
15,000 Employees
5.22 Millions Clients' Success