The main functions of supply chain management system is to increase the accuracy of forecasting, reduce inventory, improve the ability to deliver and supply goods, reduce work flow cycle time, increase production efficiency, reduce supply chain costs, reduce overall purchasing costs, shorten production cycle time, and accelerate market response time. Supply chain management primarily comprises contract management, purchase management, outsourcing management, pre-sale analysis, export management, stock management, inventory accounting and GSP quality control.
Inventory Management
Provides alert mechanisms on inventory shortage, overstock and safety stock, so when used in conjunction with BI decision-making, it can provide the basis for an enterprises' departments to make the appropriate decisions.
Inventory Management System: To manage stock in/out by batch and to support pegging whole process related with batch number
Inventory Management System: Complete serial number management through stock in/out. Transfer, defective goods processing and relocation document. In this way, single product is traced by Serial No.
Inventory Management System: To manage inventory by shelf life and to alert guarantee period of inventory and for expired inventory.
Inventory Management System: Compatible to multi-mode of stock count scheme, such as by warehouse, by lot, by inventory classification and by shelf life days.
Inventory Management System: Through application of barcode, the system helps logistic and warehouse easily process transaction operation, lower labor intensity and mistake possibility and improve efficacy of stock in/out.
Inventory Management System: Alert by guarantee period, warehouse count, max stock and min stock, etc. Flexible mode on alert such as informed via email and pop-up message.
Inventory Management System: Analyze stock level by receipt/shipment/stock report, analysis on overstock and shortage of inventory, stock aging and other inventory status, which makes it easy to make reasonable inventory strategy, to facilitate inventory turnover and optimize inventory structure.
Sales Management
The sales management provided by yonyou covers quotation, ordering, shipment, and invoicing. It supports multiple sales type including ordinary sales, consigned sales, installment collection, drop shipment, retail, and sales transfer and enables real-time monitoring sales prices and credit.
Strict price policy in quotation and order, including inventory price, customer-inventory mapping, promotion price and batch discount
Simulation on cost of Sales Order quickly and accurately by reference of BOM, material consumption, simulated labor hours and manufacturing expense when Sales Order received.
Input/change/search/verify sales order according to the amount/product on the clients' order, and trace the status of order execution.
Generate sales delivery lists and the system will calculate the sales dispatch costs in Inventory Management module.
Customer confirmation process management and control after receipt of goods. Shipment confirmation slip is an important sign to indicate SO delivery.
Support sales order mode of Assembly to Order and Pick to Order
To control credit and period by department, sales person and customer.
Reserve goods by order and inventory.
Able to trace sales order execution including whole sales process: ordering, delivery, production, invoicing and receipt. Help sales manager grasp order status quickly.
Generate various sales statistics and analysis.
Contract Management
yonyou SCM help you to manage documents of all kinds of contracts, contract change, contract query, and processes of settlement, collection, reconciliation, and follow-up controls of contract.
Life cycle management of entire contract including scopes of signing of contract, execution of contract, collection, payment, and etc.
Able to define the classifications and properties of contracts in accordance with clients' applications (vided into AR, AP, purchase, sales and other contract types)
Various methods of alarms, when contracts become effective, closed and executed.
Directly connect the contract with purchase/sales system which allows full tracking of the contract status
Purchase Management
yonyou offers purchase management solution that covers the whole process of managing purchase business in purchase requisition, price inquiry, ordering, arrival, receipt, invoicing, and purchase settlement. It supports multiple business types such as ordinary purchase, VMI purchase, fixed asset purchase, drop shipment purchase.
Prevent purchaser from taking purchasing price arbitrarily. Enforce strict purchase price policy, such as pricing followed by agreement, historical price and latest price. Control highest purchasing price and actual purchase price comparison.
Re-order point purchasing can raise purchase requisition when available quantity is lower than the re-order point.
To support purchase a BOM's whole set material from one or many suppliers.
It is a purchasing pattern to allocate purchasing requirements in one or many suppliers.
To support raw material purchasing by expanded parts defined in a BOM.
Accurately confirm the cost of purchasing with consideration of purchase invoice and freight or other expenses. Checking the purchase invoice and receipt.
Analyze the purchase costs, supplier prices and purchase capital ratio, aging, improve purchase business efficiency.
Barcode Management
Support the scanning of barcodes with multiple PC-based offline and wireless scanning terminals and offer different scanning solutions for different scanning environments to meet enterprises' management needs for barcode applications.
Can distinguish resolution barcodes from master file barcodes and provide the appropriate processing method.
Supports fixed length barcodes and non-fixed length barcodes, to meet enterprises' barcode application requirements.
Allowed to manually maintain the barcode master files directly with this module.
Multiple hardware applications are supported: For wireless/online/offline (batch processing) applications, this module features simple and convenient interface operations.
Supports the scanning of document barcodes and inventory barcodes.
Since it supports generation of documents by scanning, it can meet enterprises' management requirements for fast entry of documents according to physical goods.
Picking lists can be generated according to sales shipment docs, manufacturing orders, and subcontracting orders.
Location allocation for picking sheets is supported
Confirmation of picking sheet by barcode scanning is also supported.
Provides a scanning function for associated documents, which enables it to record barcode association.
Inventory Accounting
For the accounting of the receipt, issue and inventory of the enterprise's stocks to acquire inventory consumption information and allocate all inventory costs to relevant cost items and cost objects for the enterprise's cost accounting.
Several costing methods are available, including monthly average, moving average, FIFO, individual pricing and planned price accounting.
Provides 3 accounting methods; by warehouse, by department, and by inventory.
The system provides three methods for estimation of receipt cost; Back Offset at Beginning of Month, Back Offset upon Receiving Invoice and Make up Variance upon Receipt Doc.
"This function exempts a shop that wants to use a material that has been collected but not used up at the end of a month in the next month from the material return procedures by creating a simulated material return form for cost accounting."
This function makes adjustment to documents that have been book kept in current month and makes entry to sub ledgers or the variance account book / the price difference account by means of Issue Adjustment Doc / Receipt Adjustment Doc / System Adjustment Doc.
Provides the accrual of depreciation provision for inventory.
Remote Application Solution
Web mode; login from Internet Explorer and no software installation on the client side required.
Print with local printer
Support local and server input method.
Save the data of application to the server or client local disk drive.
Reconnect automatically if network dropped.
Centralized management for users and user group
Provide operational log
Support dynamic DNS
Enable SSL encryption for web services and enhancement of data security.
Internal Transaction
Flexible configuration and setting to fulfill multiple business scenario
Plan and schedule cross-organization resources
Order handling and monitoring
Provides a uniform settlement platform for multiple forms of internal transactions of enterprises. These transactions include: Cross-organization transfer, purchase, sales, picking, finished goods receipt, and consumption summary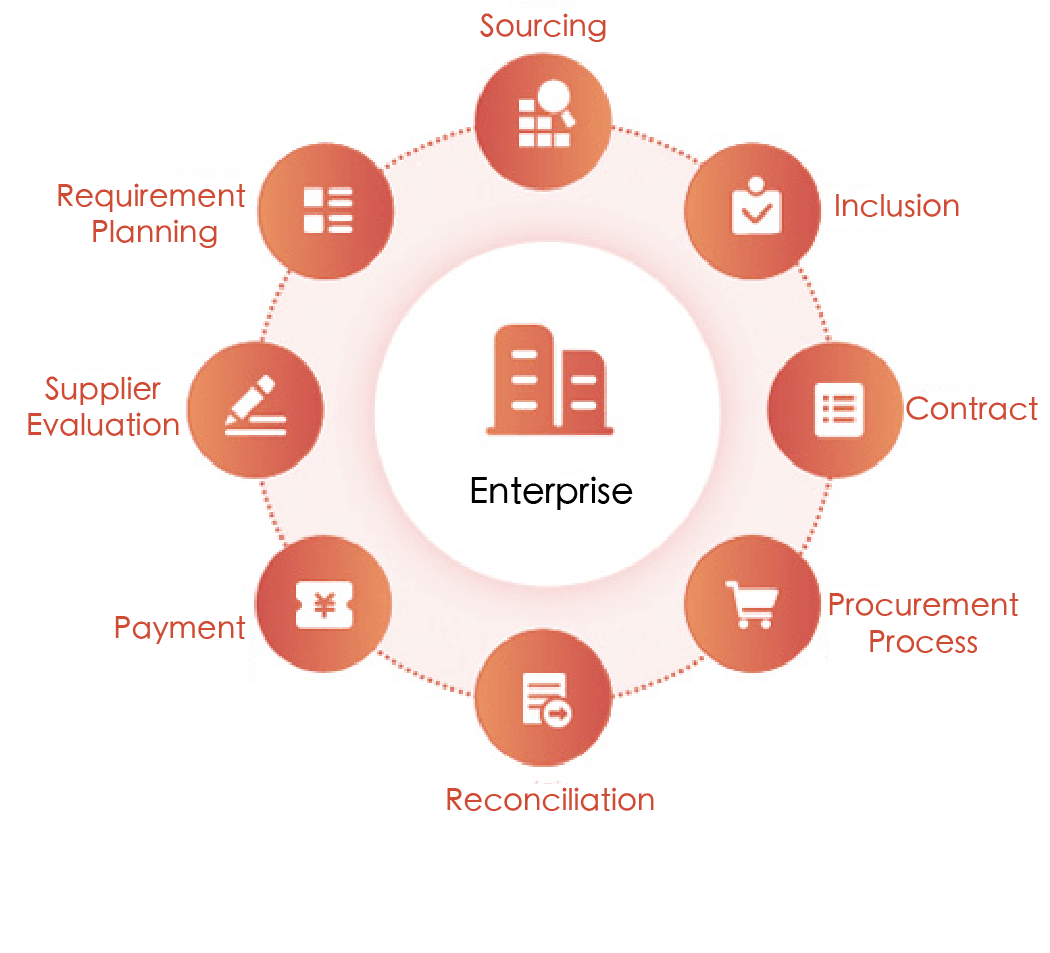 yonyou Purchasing Service is an enterprise Internet procurement service platform designed to help companies make purchasing decisions and efficient collaboration.
CORE VALUE
Interconnected . Intelligent . Convenient . Ecosystem
Massive Quality Goods & Suppliers
Aggregate enterprise compliance providers and multiple integrated or vertical e-commerce providers.
Smart and Accurate Supply Demand Matching
Accurate matching and smart recommendation.
One-stop Procurement
From sourcing to payment, yonyou Purchasing System provides full-process digital procurement services.
Seamlessly Integrated with Partners
Integrate supply chain service providers such as e-commerce, finance, and logistics.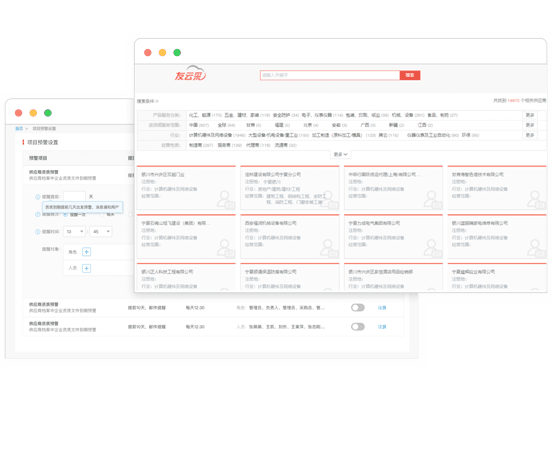 Supplier Management
yonyou Purchasing System provides full lifecycle management of suppliers, including comprehensive supplier access, certification and evaluation.
Realize the digitalisation process of supplier management
Source-to-Contract
yonyou Purchasing System supports price comparison, bidding, bidding, multiple sourcing services;
Meets a variety of sourcing needs such as enterprise materials, engineering, logistics services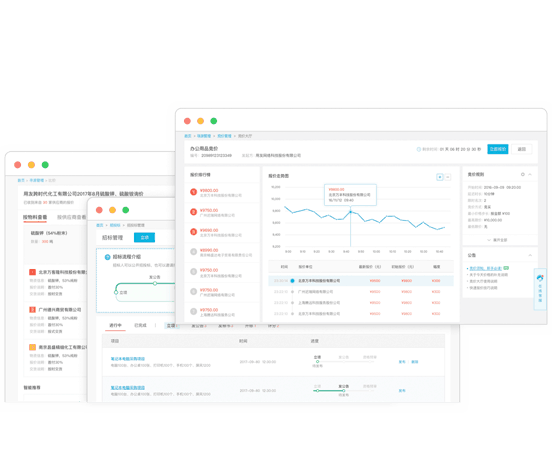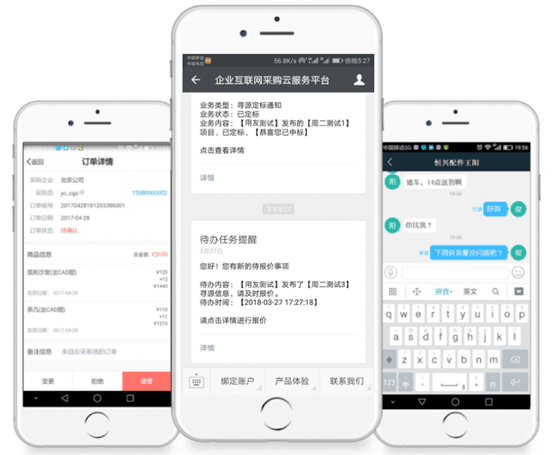 Procure-to-Pay 
 yonyou Purchasing System supports multi-end applications.

Automated, real-time, social, synergy, agile and efficient.
e-Marketplace
Office supplies supermarket:
– Build an in-house mall to support regional markets and industry market models.
– Featured 8 million+ products, ToC shopping experience, simple, transparent, compliant
Industrial supermarket:
– Gather 20 million + MRO products, one-click direct industry leading e-commerce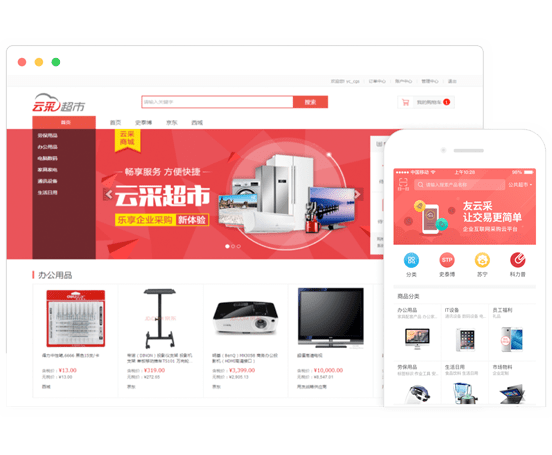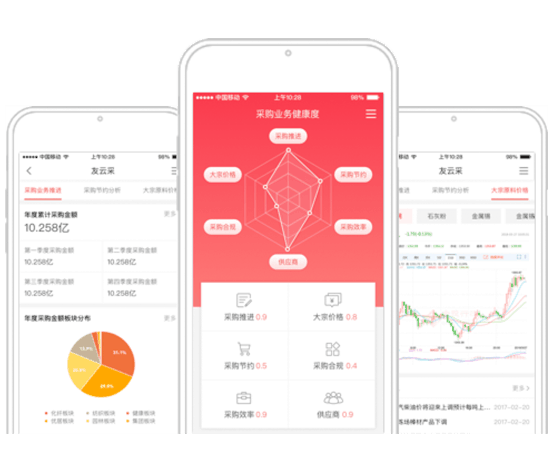 Supplier Platform
yonyou Supplier Platform is a Baas (Business-as-a-Service, procurement and service) customized for suppliers, which is mainly for suppliers to accurately match and intelligently recommend purchasing opportunities, providing a variety of cooperation with buyers, application for warehousing, automated trading.
The platform helps increase marketing opportunities, establish mutually beneficial contacts with interested purchasing companies, and effectively reach deals.
Contact us 
for a tailor-made solution for your enterprise
32 Years of Execellence
17,000 Employees
5.42 Millions Clients' Success